NEW EMPLOYEES
If you're not Registered, follow the steps below so you can choose your primary retirement benefit - Pension Choice or Savings Choice.
Click Register Now in the login box below.
Once you've registered, you'll be taken to the NetBenefits® homepage.
EXISTING EMPLOYEES
See your Retirement Review.
Log in with your username and password
No username and password? Click Register Now and follow the steps to register.
Use your NetBenefits login
If you have an account on Fidelity.com, use the same username and password.
Use your NetBenefits® login for full access to both myUCretirement.com and NetBenefits. For help logging in, call 1-866-682-7787.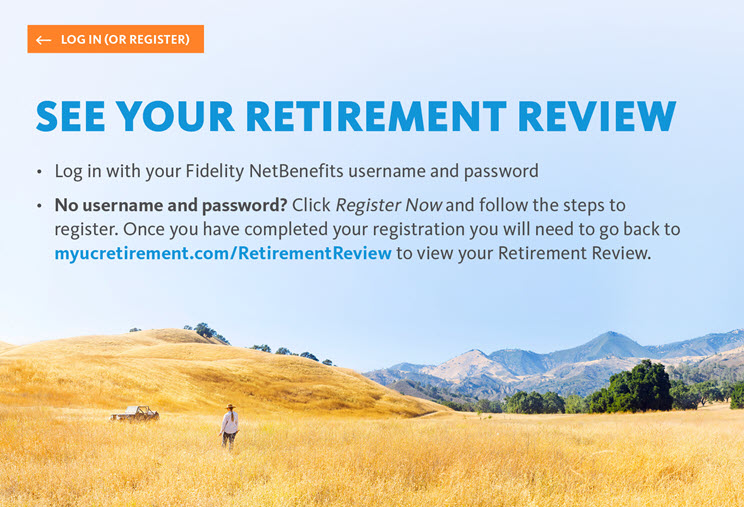 Terms and conditions 
Please note that by using your Fidelity NetBenefits® login credentials to access the www.myUCretirement.com web site, you will have access to Fidelity Sites (the term "Fidelity Sites" refers to all Fidelity web sites, as well as the content on them) without re-authenticating in accordance with applicable session management and timeout parameters. Your use of the Fidelity Sites, including but not limited to access through a link on www.myUCretirement.com as well as by logging on through this page, shall be governed by the Terms of Use that govern the Fidelity Sites and the information, content, tools, products and services on all Fidelity Sites. To review the Fidelity Terms of Use in their entirety, click the "Terms of Use" link at the bottom of this page.